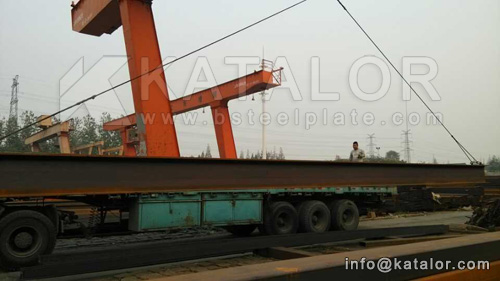 ST 37-2 H beam steel under DIN17100 standard, he material number is 1.0037. we can regard ST 37-2 H beam steel as common carbon structural steel . ST 37-2 H beam steel is a type of steel sheet under DIN standard which is used to build ship, bridge, belongs to high strength sheet.
ST 37-2 H beam steel Chemical composition %
Thickness, C
P
S
N
≤16
0.21
0.065
0.065
0.010
>16 ≤40
0.25
>40 ≤63
0.25
>63 ≤100
0.25
ST 37-2 H beam steel mechanical properties

thickness
Yield StrengthReH[N/mm2]
transv.min.
TensileStrengthRm[N/mm2]transv.
Fracture Elongation[%]transv. min.
Notch Impact
Energy1)Ch Vcomplete samplelongitud. min [J]
t ≤ 16mm
t> 16mm
235
225
Degree: 0
AV: 27J
t < 3mm
t ≥ 3mm
360-510
340-470
Up to 1.5mm
1.51-2.00mm
2.01-2.50mm
2.51-2.99mm
≥ 3mm
16
17
18
19
24
St37-2 angel steel advantages: Low handling fee,durable & long service life,high reliability,comprehensive protection,saving time & labour. Katalor have owned the global reputation for supply the high quality St37-2 angel steel, if we have the size in St37-2 angel steel stock, we can delivery them at once. If not, it will take about 20 days for us to produce the it for you. Please contact our sales team if you have any inquiry about the this material , we will offer you the competitive price with best St37-2 angel steel price in China.