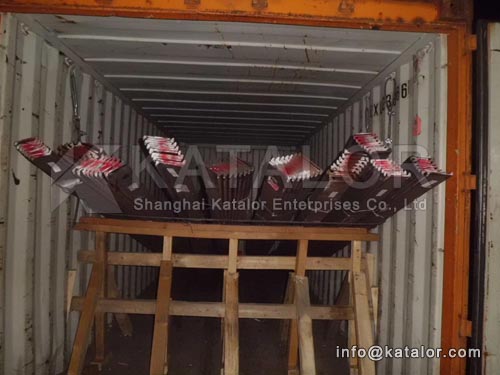 RINA AH32 bulb flat steel

RINA AH32 bulb flat is a kind of high strength hull structural, produced according to RINA classification society standards. It is a hot rolled shipbuilding section steel, suit to build ship, oceanographic engineering, and so on.
General length of bulb flat steel range from 4 to 12 meter, for the detail of size information, please click here.
The chemical compositions of RINA AH 32 bulb flat steel
Grade
Chemical Composition %
C
Si
Mn
P
S
Cu
Cr
Ni
Nb
V
Ti
Mo
N
Als
AH32
≤0.18
≤0.50
0.90-1.60
≤0.030
≤0.030
≤0.30
≤0.20
≤0.40
0.02-0.05
0.05-0.10
≤0.02
≤0.08
≥0.015
The mechanical properties of RINA AH32 bulb flat steel
Grade
Tensile Test
Impact Energy KV2/J
Yield Strength ReH/Mpa
Tensile Strength Rm/Mpa
Elongation A/%
Temperature ℃
Longitudinal
Transverse
AH32
≥315
440-570
≥22
0
≥31
≥22
Katalor Enterprises is a professional supplier of RINA AH32 bulb flat steel, we have different size bulb flat steel in stock, in large quantities. Or your order quantity is very large, we can produce specially for you. If you need AH32 bulb flat steel, please leave us your order information, such as size, quantity, discharging port, contact information, our sales person will send you offer as soon as possible.